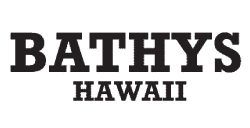 This installment of the Watch Brand Review takes a break from the big names in the watch industry to examine a boutique brand that has been near - both figuratively and geographically - to my heart: Bathys Hawaii. Besides bearing the distinction of being the only watch brand headquartered in Hawai`i - specifically the island of Kaua`i - Bathys's six-year history offers both as an example among small watch companies and a few important object lessons in business management, pricing, marketing, and building and maintaining relationships with the watch collecting community as a whole.
Identity
Bathys draws on its Hawaiian locality for both the tone of its watches and their intended functionality: solid, well-designed and dependable timepieces for active, outdoor lifestyles at reasonable prices. Its dials are eminently legible and well-known for their bright luminosity. Their cases are PVD-coated, rendering them more scratch resistant than untreated stainless steel. And along with the "Hawaii" on their dials, each watch's caseback features an engraving of the Hawaiian Islands, a nice touch that firmly reinforces their association with surfing and beach-going culture, as well as an island lifestyle. That, along with the accessibility of the brand's owner, John Patterson, on various watch fora and social media, makes Bathys a solid contender for a take-anywhere everyday watch.
As a relatively young homegrown business, however, Bathys has inevitably made a few misteps along the way. The largest in my opinion was its attempt to market its watches in brick-and-mortar stores like Ben Bridge. On the face of it, the move was a logical one in order to increase availability and awareness of the brand beyond online watch enthusiasts. The maneuver, however, came with a retailer-imposed price markup that saw even the online prices of Bathys watches increase by over 40%. This severely damaged the value proposition that had up until that point been one of Bathys's most salient selling points, and served to estrange the brand from some of its established consumer base.
In addition, supply has been an issue for a company that lacks the financial and logistic resources of larger brands. Most of Bathys's watch lines have been out of stock for more than a year, and some of its special offerings - such as watches with a unique ultraviolet PVD coating or gorgeous mother-of-pearl dials - have either been discontinued outright or out-of-stock with no plans for reproduction yet on the horizon.
Yet despite these difficulties, Bathys continues to enjoy strong support among its loyalest followers in the watch enthusiast community, sentiments only bolstered by their recent return to their original prices and departure from brick-and-mortar retailers. Once it is able to restock its online store's inventory (with another shipment of watches estimated to arrive in June 2012), Bathys will attempt to offer one of the strongest price-value ratios available.
Design
Bathys watches are designed with durability, dependability, and ease of use firmly in mind, with legible dials, PVD-coated cases, and domed sapphire crystals. Every model uses a Swiss-made movement, and offers the 200m (roughly 100 fathoms) water resistance that allows them to brave the waves as easily as they do more terrestrial adventures.
With men's models ranging between 41mm and 48mm in diameter, Bathys watches are robust tool watches in keeping with the modern trend toward larger sizes. After years of anticipation, Bathys now also offers a fitted bracelet for its 100F and Benthic models, in both silver and black PVD, albeit not through their web store but a separate checkout system direct from the bracelet's manufacturer.
Functionality
Bathys' offerings are straightforward and easy to use, yet its original and flagship line, the 100F, cuts a classic enough profile to not seem out of place peaking out beneath a dress shirt cuff.
Like many smaller watch brands who relied on ETA-produced mechanical movements, Swatch Group's decision to cut back on the availability of those movements forced Bathys to turn to other suppliers, like Selita. While this change in sourcing doesn't have any significant impact on the performance of their watches, those hoping to acquire a Swiss-made watch utilizing ETA's workhorse movements may need to turn elsewhere (including Swatch brands like Tissot and Longines . . . which may have been Swatch Group's intent from the onset).
Conclusion
When I began this review, I fully intended to catalog Bathys Hawaii's triumphant return from the dual purgatory of the brick-and-mortar sales model and lackluster web store inventory. I had been eyeing their basic 100F Quartz model as my pick, as it is the most accessible piece and a great rough and tumble watch with a reliable Ronda movement. (One quirk of the big-date function did pop up upon further research, though: the date continues to cycle beyond 31, to 32, 33 . . . all the way to 39. So at the end of every month, you have to advance the date to begin again at 01. To me, that's a deal breaker.)
However, a slew of inventory delays and - most recently - a lack of responsiveness from the team at Bathys has eroded the last of the good will I had nurtured for the company. The issues with their quartz movement, the uncertain supply issues with their automatics, and a general lack of communicativeness when it comes to restocking, inventory, and even which of their models they intend to restock - or when - just outweigh the novelty factor of having the Hawaiian Islands engraved on your caseback or buying from a "local" company . . . who has their watches built and shipped to them from Switzerland.
The Bathys concept and business model might work for some people, but the quality is in the execution. Sadly, in terms of dependability - both in the products it produces, and the people who run it - Bathys falls short of the mark.
My pick: Reluctantly, avoid.