It's been said elsewhere before, but for those looking for a streamlined watch collection that can cover virtually any situation, four kinds of watches form the essential core of your watch box. I'm willing to go even further and say that one watch can fulfill more than one role, even potentially all of them, if you pick wisely--and are content with owning just one watch.
1. The Dress Watch
I'm starting with the Dress Watch because this is often the watch considered synonymous with the "nicest" or "most expensive" watch in your collection, though this need not (and perhaps should not) be the case. To begin with, in the most formal of situations (e.g., black-tie formal), wearing a watch may not even be appropriate. Or if you absolutely must have a watch on-hand, a pocket watch is actually the dressiest option. A watch on a leather strap is usually considered dressier than one on a bracelet, and the simpler the watch dial (with fewer complications), the dressier, though applied indices (separate pieces affixed to the dial) may be preferable to painted ones. Traditionally, this meant an hour hand and minute hand, and nothing else; even minute markers were often omitted. A quintessential example is the Jaeger-LeCoultre Master Ultra Thin or the Patek Philippe Calatrava. Precious metal cases were the norm 50 years ago, but increasingly relaxed standards of dress, the popularity of steel cased watches, and the ever inflating price of gold, it's not as much of a requirement these days. Smaller-sized watches, both in diameter and case thickness, tend to be dressier since they can fit better under the cuff of a dress shirt. The only hard-and-fast rule of the Dress Watch is that it not be a digital watch (though some might make the case for a horological masterpiece like the A. Lange & Sohne Zeitwork, I'd hazard to say that it's a bit too big and complicated in its digital mechanism to qualify as a dress watch), and that it not be on a rubber strap.
My Dress Watch:
Nomos Tangente Gangsreserve
Though I sometimes make it a little sporty by pairing it with a steel stretch bracelet repurposed from a
Hamilton Ventura
, the
Nomos Tangente
comes on a smooth black patent leather strap, and that's how I usually wear it. It features a manually wound in-house movement, a Bauhaus-inspired quintessentially German aesthetic, no date function (a perk for a Dress Watch, but one of my personal preferences too), blued steel hands, and a modest size (35mm diameter, roughly 8mm thick). It tends more toward the modern side of the scale design-wise, is steel cased and lacks applied indices, but otherwise has the attributes of the quintessential Dress Watch. The power reserve function in this Gangsreserve model is an uncommon complication for a watch that is otherwise so simple, and though it skirts the no-complication Dress-Watch rule, for me it adds just the right mix of personality and functionality.
(The other three essential watches--and one more--after the jump!)
2. The Sport Watch
The next watch may actually be one of the largest categories of watches out there, considering that it spans watches as iconic as the
Rolex Submariner
,
Omega Speedmaster Professional
, and Audemars Piguet Royal Oak. It is quintessentially cased in a non-precious metal case, and should have a dial that is easy to read in a variety of situations (i.e. easily distinguishable hands, clear hour and minute markers, a high-contrast dial, and copious illumination). Some like the Submariner have come to skirt the line between Dress and Sport (the Submariner's status being due in no small part to its having been paired with a tuxedo by Sean Connery's James Bond). Others have gained fame for their performance as tool watches, like the quintessential "Moon Watch," the Omega Speedmaster Pro. But the most defining characteristic of the best of this category is often a combination of durability, functionality, and sublime aesthetics.
My Sport Watch:
Omega Seamaster Professional Mid Size
2253.80

My pick for Sport Watch also fulfills my personal requirement of a blue-dialed watch, and is also the only dive watch in my collection. It is the midsize (~36mm diameter) version of the "electric blue" Seamaster, with sword-style hands and heavily lumed hour markers. It has the venerable Omega 1120 movement (a modified ETA 2892-A2) which was Omega's mainstay until it transitioned to co-axial technology. I was immediately taken by its mesmerizing blue dial, and the fact that it is one of the only midsize dive watches available in a market filled with 44mm+ watches. Its modest size makes it a viable companion for suits, as it will easily fit under a shirt cuff. Its only minus is a personal one: I prefer non-date models (mainly because I hate resetting them: you never know whether your watch stopped at 3:12 AM or PM) though for most people having the date function is probably a perk. Being an automatic, though, as long as you wear it consistently, resetting the date won't usually be a problem. I'm wearing it right now, in fact, and it has assumed its role as my daily wearer ever since I first acquired it around six months ago. It is a discontinued model--I had to source it from a gray market dealer that still had it in stock--so it can be difficult to find, but it also means that there may be some deals to be found on the secondary market. It also came in a fullsize (~41mm) version for those with larger wrists, the reference 2255.80.
3. The Complication Watch
The third category of watch showcases the watchmaking arts and the various kinds of functions that can be added to the basic wristwatch. The date window is so common a feature that some might not call it a complication at all, while the tourbillon is the quintessential complication that many consider a benchmark for haute horology. Other complications include the chronograph feature (with permutations such as the rattrapante), perpetual calendar, moon phase, power reserve indicator, and minute repeater. Your precise checklist of complications may depend on your predilection for each function (and your disposable income, as the most expensive of these features in a mechanical movement can easily push a watch's price into the five or six figure stratosphere).
My Complication Watch:
Omega Speedmaster Professional
3573.50
The Complication Watch is where I deviate the most from the norm. The chronograph is the only function I consider a must-have for a Complication Watch. While I appreciate the utility of a perpetual calendar or power reserve function, the rest of the complications out there just don't do it for me. As I mentioned before, I prefer non-date models, which tends to reduce the chronograph field to icons like the Speedy or the
Rolex Daytona
. The Speedy was the first high-end watch that spoke to me, and its status as the "Moon Watch" only cemented its place in my collection.
Eagle-eyed readers will note that the reference given (not to mention the presence of a display caseback) means that this is the "sapphire sandwich" version of the Speedy Pro--that is, the version with sapphire rather than a hesalite crystal. While purists will note that sapphire seems to lack the "warmth" of hesalite, and that the extra flourishes given to the sapphire sandwich make the "First And Only Watch Worn On the Moon" claim on its back a bald-faced lie (for those who think so, the
3570
is the one true Moon Watch), I'm in the camp that prefers the scratch resistance of sapphire, and appreciated the view of the beautiful Lemania-based Omega 1863 the display caseback provides.
4. The Beater Watch
Simply put, the Beater Watch is a watch that can take a beating. More than that, it's a watch that
you
can take taking a beating. This usually means it's on the inexpensive side, though of course its price tag is ultimately up to you and your finances. The additional bonus of an inexpensive (and presumably unassuming-looking) watch is that it is unlikely to draw unwanted attention and make you less attractive to potential muggers or other ne'erdowells.
Based on the robustness (to say nothing of the affordability) of the technology alone, the ideal beater watch is a quartz watch like the
Casio G-Shock
series. Tough, affordable, I especially like the
G5600CC-2
. . . though it's not the beater in my watch box at the moment.
My Beater Watch:
Casio Protrek PRX-2000T-7JF "Manaslu"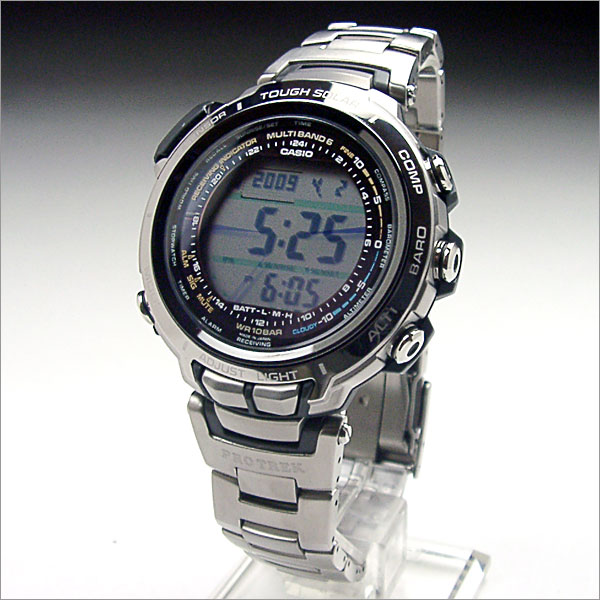 The "Manaslu" doesn't really fit the full description of a Beater Watch, but it's the closest member of my watch box to one. I came across it while searching for a G-Shock with as much metal in its construction as possible, including a bracelet instead of a rubber strap. While part of the watch case and back are resin, most of the Manaslu is titanium, making for an extremely lightweight yet durable watch. It is also notable as a Casio with a sapphire crystal, where most models have a mineral crystal. And as an ABC (altimeter-barometer-compass) model, it has nearly every function you could hope to find on a digital watch, including a solar-powered battery and radio-controlled time adjustments from the nearest atomic clock. It's a JDM (Japanese domestic market) model, meaning you can only find it in Japan or through Japanese sellers like Higuchi, Seiya, or the global Rakuten merchants, and a little pricier than usual Beater Watch fare. But if you have an aversion to rubber straps and don't put you watches through too much hell, like me, then the Manaslu is one of the finest examples of a digital quartz watch you could hope to find.
You can also find a watch with the same bracelet and internal tech but a resin case (and more economic price tag) domestically:
PAW-2000T
.
X. The Do-It-All Watch
As I said before, it's possible to have one watch stand in for more than one category, and I realize that some may be inclined to simply invest in a single watch that will serve them well for whatever situation may arise. Despite my love of watches and ever-expanding-and-contracting collection, the notion of having one watch to rule them all has appealed to me. The perfect Do-It-All Watch would have to have the understated elegance and clarity of purpose that you'd find in a Dress Watch; the iconic design and utterly legible dial of the Sports Watch; the unquestionable pedigree and horological distinction of the Complication Watch; and the rugged it-just-works functionality of the Beater Watch. This all-in-one convenience inevitably requires some sort of compromise, and depending on what's important to you, a wide variety of watches could fit this bill.
My Do-It-All Watch:
Rolex Explorer 114270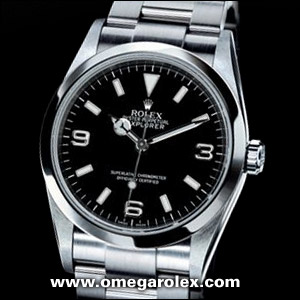 Image courtesy of OmegaRolex.com
Prior to its 39mm update (which inexplicably retains the same hands from the previous iteration, throwing off, in my opinion, the perfect balance of the dial), the Rolex Explorer was the quintessential under-the-radar Rolex. Classic in the same way that the Rolex Submariner is classic, with its own claim to fame (namely its use during Edmund Hillary's Mt. Everest expedition--though not on Hillary's wrist, as Rolex's PR and some die-hard fans might want you to believe), it has the Submariner's iconic sportiness melded with the timeless refinement of the Rolex's Oyster Perpetual series of watches. Its 36mm size is Dress-sized and perfect for smaller wrists, and it looks as good with a three-piece suit as it does in shorts and rubber slippers (what the U.S. mainland derisively--and erroneously--dubs "flip-flops").