I had thought that I'd managed to kick the watch buying habit after paring down my collection, and especially after a brief Halloween-and-November-themed excursion with the new
Seiko Orange Monster SRP309
that ended with a eBay flip. But a
review of the 2012 Hamilton Intra-Matic
by James Stacey on A Blog to Watch (formerly A Blog to Read) put the vintage-styled automatic on my radar. I've
bemoaned the trend toward larger case diameters
in a previous Watch Primer post, so coming across a freshly released model under the 40mm threshold was a welcome surprise. The classic styling and silver sunburst dial were immediately attractive, as was the notion of adding an automatic back to my watch box that wouldn't break the bank, and which I would be comfortable wearing daily to work at the courthouse.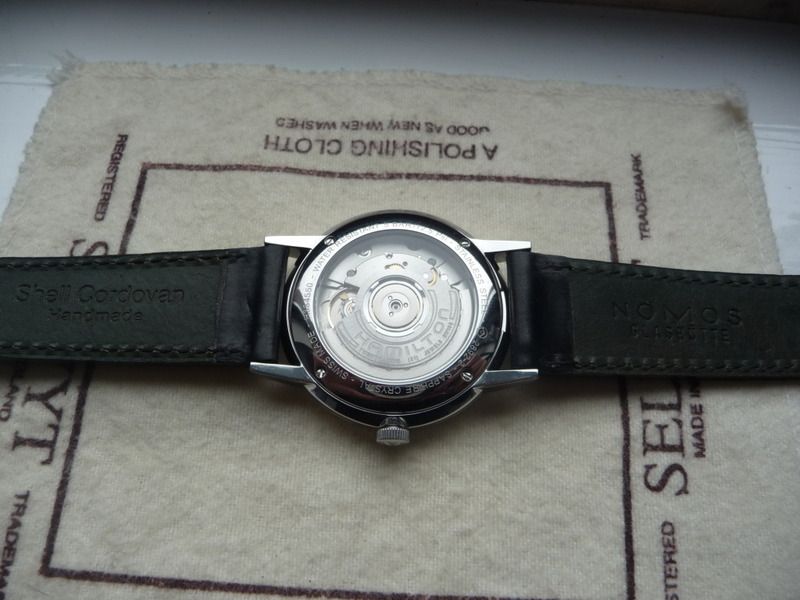 With a street price a little over $500, the Intra-Matic is also one of the least expensive options that I know of that is powered by an ETA 2892-2, a slightly thinner and more upscale movement than the ubiquitous ETA 2824. I've owned two watches in the past powered by this movement or its subsidiary seconds variant - the Omega Seamaster 2253.80, wielding a modified 2892 in its Caliber 1200, and the Xetum Tyndall, employing an ETA 2895, which is the 2892's subsidiary seconds counterpart. Both came in well above the $1000 mark, so the opportunity to pick up a 2892-powered model with bracelet for less than $600 was too good to pass up.
I found the 38mm case well proportioned for a 6" wrist, the sweet spot for which seems to reside somewhere between 34mm and 38mm. The dial is preeminently legible, such that it is readable even under low light conditions despite having no applied lume. I opted for the bracelet version because I suspected the standard-length strap would prove too long for my wrist, and had planned to use a spare black Nomos shell cordovan strap instead. The watch looks very good combined with the black shell cordovan, but I eventually opted to return it to its stock bracelet, in part so the OCD part of me wouldn't be tempted to swap out the strap for its brown shell cordovan counterpart every time I wore a brown belt and shoes. While the bracelet tends to make the gorgeous dial blend more into the rest of the watch, the contrast of a black strap really draws attention to it.
Timekeeping on my Intra-Matic has been superb, with less than a minute gained in the several months I've been wearing the watch as a weekday wearer. The only functional quirk is, regrettably design-based: the juxtaposition of a hours-and-minutes-only dial with a date display. Even after several watches successfully weaned me from my fixation with minute markers - the Hamilton Ventura - and second hands - the Citizen Stiletto - the date display would, under normal circumstances, have been a deal breaker. But the lack of a screw-down crown coupled with my professional responsibilities having made knowing the date at a glance a very welcome convenience, pushed me to take a chance on the Intra-Matic. I'm very glad that I did. While I still prefer dateless models in general, the Intra-Matic is a watch that I'd be happy to wear day in and day out for the indefinite future.