The Best Watches for Less Than $50
In a world with a built-in clock in every cellphone and computer, the wristwatch is, as far as pure timekeeping purposes go, obsolete. But extinction is not the only result of obsolescence. There are situations where a wristwatch serves better as a timekeeper than a phone, just as there are situations (albeit ratified) where a pocket watch is preferred over wristwatch. Wristwatches represent one of the few accessories a man can comfortably wear in nearly any context. Here's five watches that epitomize the finest attributes of the 21st century wristwatch - and won't overtax your wallet while doing it. As an additional challenge from last year's Top 5 list, the price limit for this list is $50!
5. Invicta 8932
One of the most visible Rolex Submariner homages out there (so much so that its most recent interations have been tweaked just enough to keep them firmly away from replica territory), the Invicta 8932
has a cult following of its own, and a solid reputation as a bang-for-your-buck watch. While its bracelet lacks the diver's extension that would make it a quintessential diver's watch, the 8932 offers the same water resistance (200 meters) as more expensive professional divers, and a sleek, tool watch design that demonstrates how a watch meant for the deep ocean has just as easily found its way into boardrooms and night clubs.
The
8932
is less than $50 on Amazon.com.
4. Casio A168W-1
Casio's regular line of digital watches have served reliably since the early days of the quartz revolution, and the A168W-1 strikes a fine balance of reliability, geek-chic style, and utterly affordability. Its metal bracelet makes it a more comfortable match with your suit, and its sub-$20 price makes it the best bang-for-your-buck watch on this list.
Find the
A168W-1
for under $20 at Amazon.com.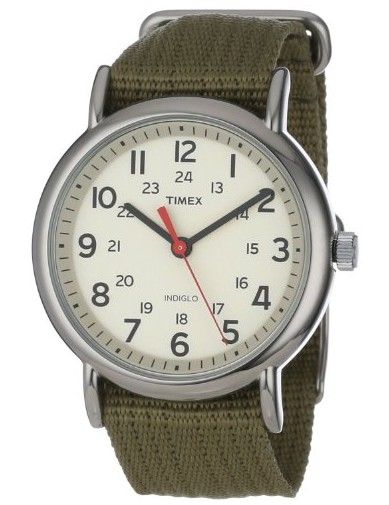 3. Timex Weekender T2N651KW
Timex is the source of the slogan "takes a licking and keeps on ticking" for a reason. Known for sturdy, dependable yet inexpensive analog watches, Timex's origins are derived from the same source as wristwatches themselves: World War II, and the need for mass produceable and reliable timepieces. Timex weathered the post-war drop in military orders and the subsequent quartz crisis in the 1970s that nearly tore the Swiss watch industry asunder, all the while continuing to build upon its reputation for dependability and economy.
The Weekender series of watches represents one of Timex's most recent offerings that blends reliability with classic styling and affordability. The plain, military-style dial also recalls the readability and familiarity of classroom wall clocks, and the Indiglo backlighting gives it excellent visability in the dark. The Weekender is designed to complement the ubiquitious NATO-style nylon straps that often give vintage watches with worn out bracelets a new lease on life, but it looks just as good on a leather strap or steel bracelet--and, so outfitted, competes with all but the blingiest of dress watches with subtlety and panache.
The Weekender as pictured above (
T2N651KW
) is available for less than $30 with NATO-style strap or under $40 with metal bracelet (
T2N656KW
).
Click here for the full Weekender selection
on Amazon.com.
2. G-Shock DW5600E-1V
The quitessential G-Shock, the 5600
series can take all the punishment an active lifestyle can dish out and still perform with precision and reliability. Its no-frills yet tough-as-nails design makes it perhaps the ultimate sports watch, wherever your sport of choice may take you. Its only weakness is its rubber strap, which--if my experience is any indication--will probably be the first thing on this watch to fail after many years of hard service, and the primary attribute that will make many sartorialists frown at seeing one peak out from beneath the cuff of your suit. But if you're as tough as the watch you wear, you can probably brush those haughty looks aside.
The
DW5600E-1V
is just over $40 at Amazon.com.
1. Casio MTP-1183A-2A
My top pick under $50 for this year should come as no surprise to those familiar with the current state of my watch box. I bought the Casio MTP-1183A-2A on a whim to see how a $20 watch would compare to a Grand Seiko high-accuracy quartz priced nearly 100 times that. The answer: quite well. Classical styling, solid finishes, in the wild it can easily be mistaken for a watch costing hundreds of dollars. There's no mistaking which is the pricier option when compared side-by-side with a GS, but feature for feature, the MTP-1183A-2A provides just as much value as the thousand-dollar watch at a fraction of the cost.
The
MTP-1183A-2A
pictured above can be had for just under $55 on Amazon.com.